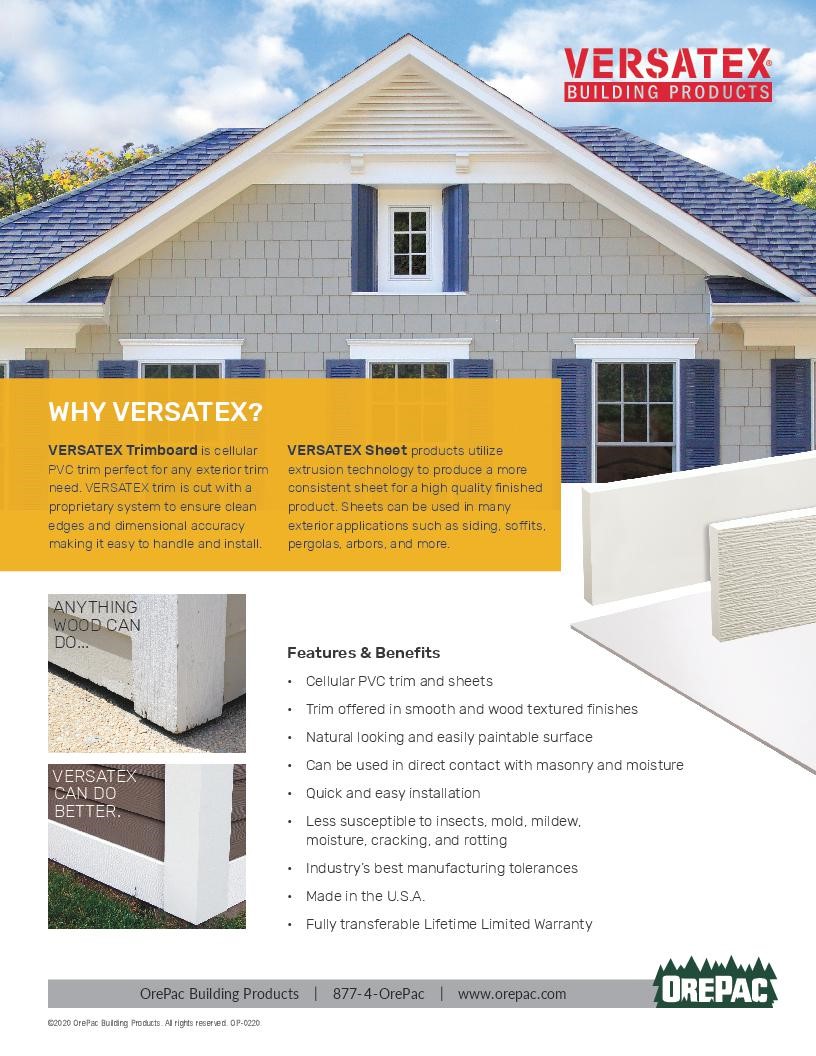 VERSATEX Trimboard & Sheet
Products PDF
Warranty PDF
VERSATEX Trimboard is cellular PVC trim that is perfect for any exterior trim need. Easy to handle and install, trim is cut with a proprietary system to ensure clean edges and dimensional accuracy. VERSATEX Sheet products utilize extrusion technology to produce a more consistent sheet for a high quality finished product. Sheets can be used in many exterior applications such as siding, soffits, pergolas, arbors, and more.
Exterior Trim, PVC
View More VERSATEX®
Cellular PVC trim and sheets
Offered in smooth and wood textured finishes
Used for exterior applications
Various lengths and widths available
Can be used in direct contact with masonry and moisture
Quick and easy installation
Paintable surface
Less susceptible to insects, mold, mildew, moisture, cracking, and rotting
Made in the USA
Warranties Include: Lifetime Limited Warranty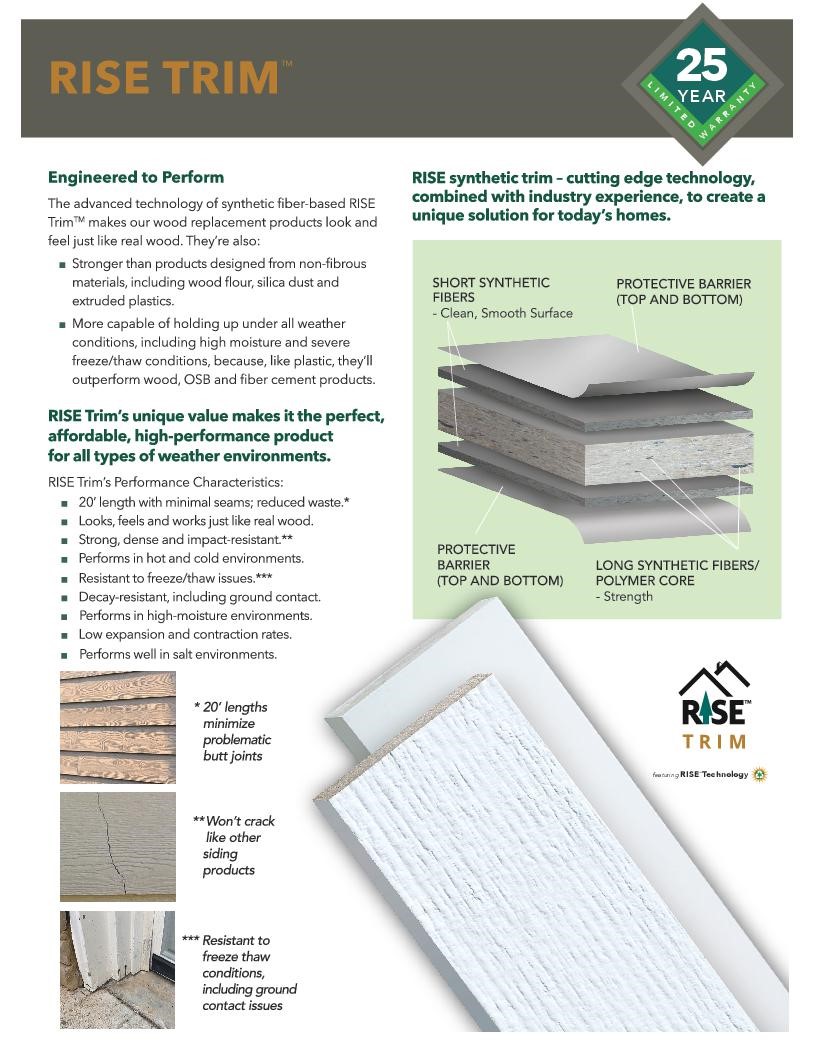 RISE Trim
Products PDF
Warranty PDF
RISE Trim comes in 20' lengths, which minimizes problematic butt joints and enhances curb appeal. RISE is available in a variety of sizes and can be cut with standard wood working tools. Consisting of a dual protective barrier (top and bottom), carpet fibers and other synthetic materials, and a polymer core, RISE Trim won't crack over time like other trim products, is decay and rot-resistant — including ground contact — and resistant to freeze / thaw issues.
Composite, Moulding, Exterior Trim
View More RISE™
20' length with minimal seams; reduced waste
Decay and rot-resistant, including ground contact
Minimal expansion and contraction rates
2-sided water protection (top and bottom)
Resistant to freeze / thaw issues
Looks, feels and works like real wood
Strong, dense, and impact-resistant
Non-toxic
Participant in circular economy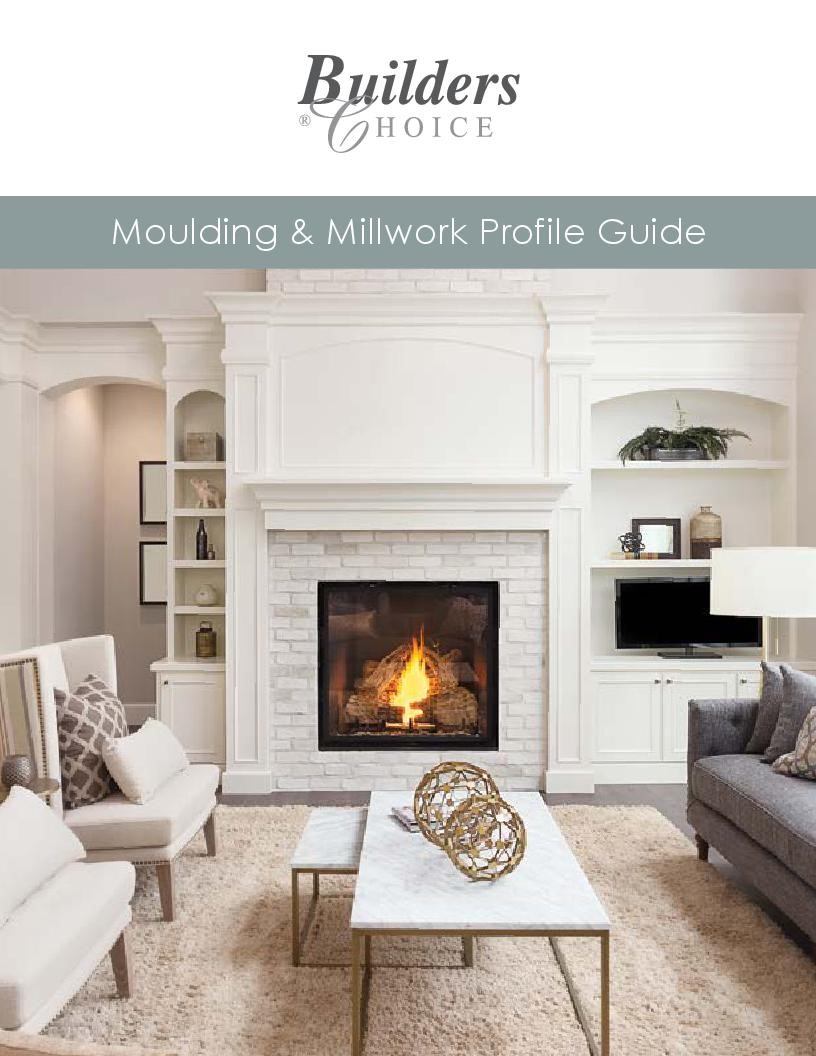 Builders Choice Moulding & Millwork
Products PDF
Builders Choice produces an extensive collection of unfinished moulding and millwork. Using architecturally-correct detailing, Builders Choice offers a variety of profiles that will complement the look of any home. Moulding and millwork is crafted in a selection of hardwood and softwood species, as well as in premium medium-density fiberboard (MDF). Browse our catalog to view the full moulding and millwork offering.
Moulding, MDF, E2E, S4S
View More Builders Choice
Offered in hardwood, softwood, MDF
Base moulding, crown moulding, casing, and more
Sold as unfinished woodwork
Paint or stain-ready
Recommended for interior use
Custom patterns available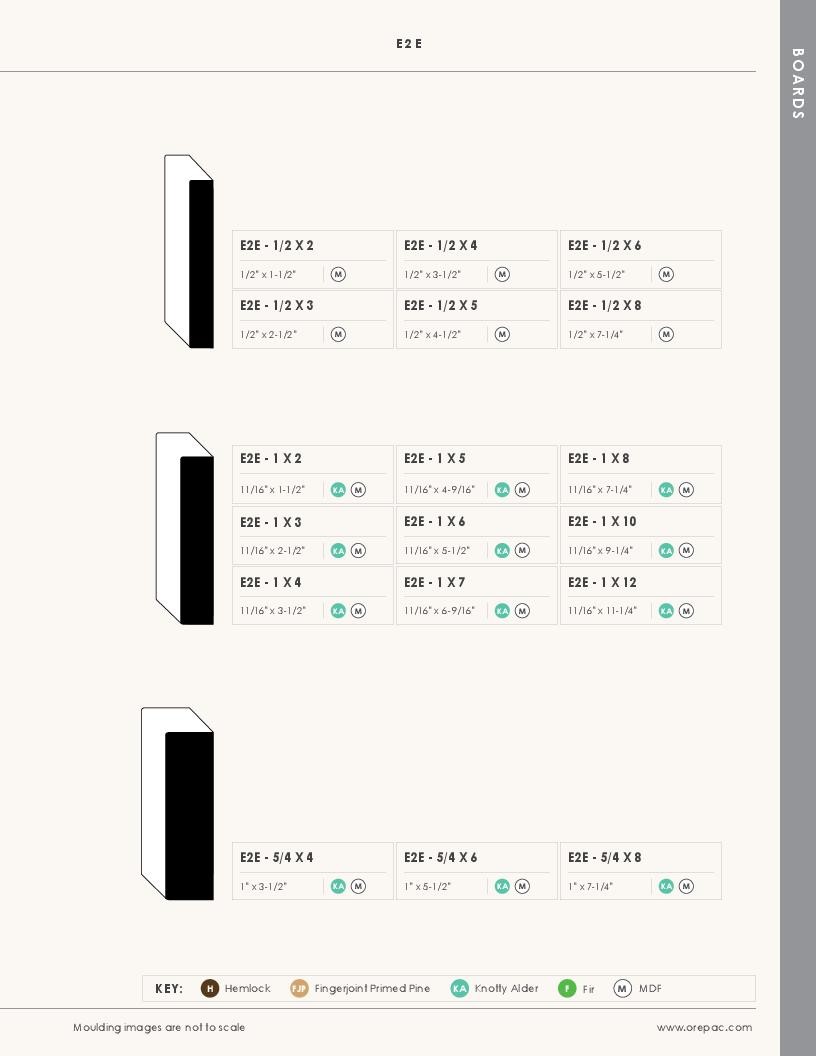 Builders Choice Wood Boards
Products PDF
Builders Choice wood boards are available in various sizes and species. Hardwood, softwood, and MDF boards are offered as eased two edges (E2E) and surfaced four sides (S4S).
Moulding, Wood Boards, MDF, E2E, S4S
View More Builders Choice
Offered in multiple wood species
Sold as unfinished woodwork
Paint or stain-ready
Recommended for interior use
Ideal for moulding, furniture, DIY projects, and more