Builders Choice Moulding & Millwork
Products PDF
Builders Choice produces an extensive collection of unfinished moulding and millwork. Using architecturally-correct detailing, Builders Choice offers a variety of profiles that will complement the look of any home. Moulding and millwork is crafted in a selection of hardwood and softwood species, as well as in premium medium-density fiberboard (MDF). Browse our catalog to view the full moulding and millwork offering.
Moulding, MDF, E2E, S4S
View More Builders Choice
Offered in hardwood, softwood, MDF
Base moulding, crown moulding, casing, and more
Sold as unfinished woodwork
Paint or stain-ready
Recommended for interior use
Custom patterns available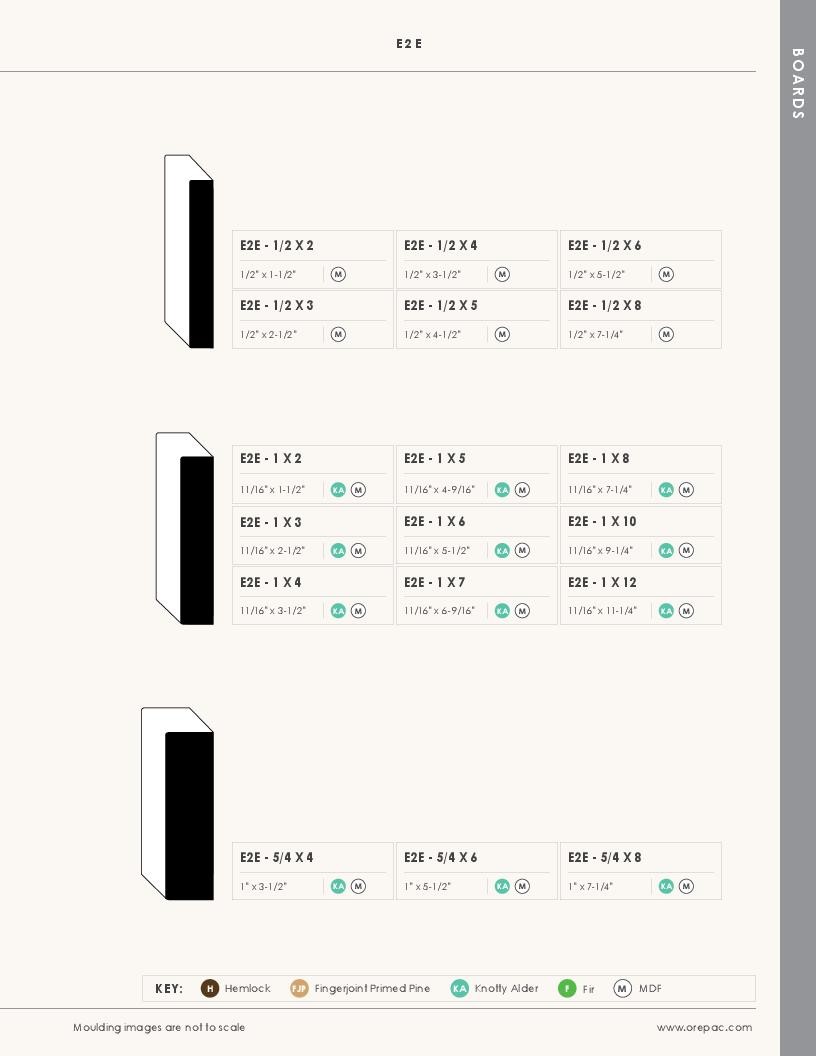 Builders Choice Wood Boards
Products PDF
Builders Choice wood boards are available in various sizes and species. Hardwood, softwood, and MDF boards are offered as eased two edges (E2E) and surfaced four sides (S4S).
Moulding, Wood Boards, MDF, E2E, S4S
View More Builders Choice
Offered in multiple wood species
Sold as unfinished woodwork
Paint or stain-ready
Recommended for interior use
Ideal for moulding, furniture, DIY projects, and more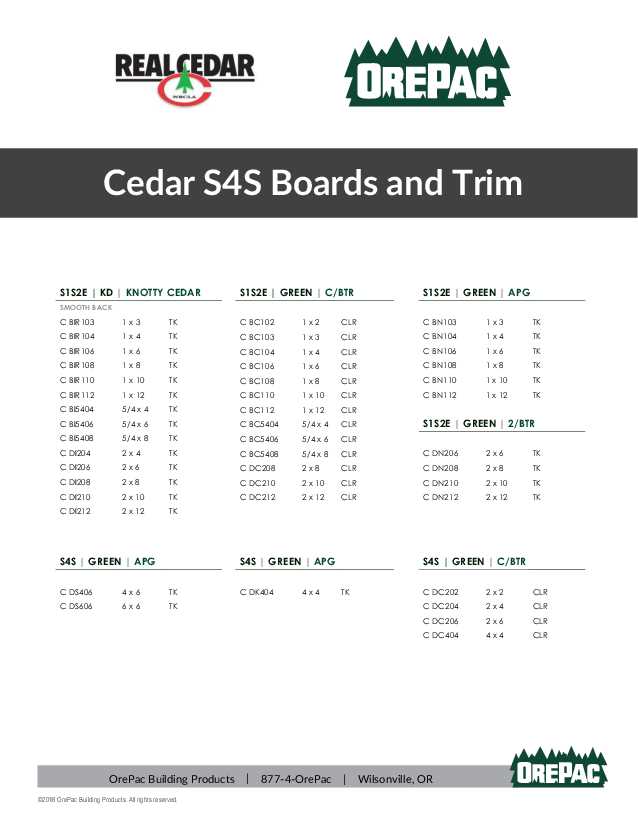 Cedar S4S Boards and Trim
Products PDF
OrePac offers the natural beauty of Inland red cedar and Western Red Cedar in S4S and S1S2E trim, fascia, and decking.
Trim, Wood Boards, S4S
Trim, decking, fascia, and accessories
Natural and fingerjoint primed options available
Limited moisture content availability: Kiln-dried (KD) or green
Primed pattern and bevel siding, as well as other miscellaneous options also available
AZEK® Trim
Products PDF
Warranty PDF
AZEK® Trim is a cellular-PVC designed to be high-performance exterior detailing. AZEK® Trim features consistent density, color, and square edges. You can be sure that your trim is white all the way through the product with either the smooth, semi-matte Traditional finishing, or with the Frontier finishing that has a rustic texture on one side and the Traditional finish on the other. AZEK® Trim has sealed edges on all four sides (S4S) making it beautiful, as well as workable, durable, and uniform. AZEK® Trim has tight board tolerances and precision, so there is no waste from accidentally excess, and you can fastened the trim close to edges without any splits. If you desire a custom look or curved application, AZEK® Trim is easily milled, routed, cut, shaped, moulded, and even heat-formed, without the risk of any chip outs and all by using standard woodworking tools. AZEK® Trim comes in beadboard, column wrap, cornerboard, drip-edge, skirtboard, trimboard, and more. The pieces of trim come in multiple sizes and profiles. AZEK® adhesive and tools are available to pair with trim work. The trim and moulding series preserves the AZEK® brand promise of high-performance, superior durability, and low-maintenance products.
Composite, Trim
View More AZEK®
Best high-performance trim product on the market
Exterior cellular-PVC trim
Same color, look, and feel as AZEK® Moulding
Protected with UV inhibitors inside and out
Suitable for ground contact applications
Does not require paint for protection
Readily accepts paint and stain
Resists insects, mold, mildew, moisture, rotting, and fading
No twisting, warping, cupping, splitting, or yellowing over time
Warranties include: Limited lifetime warranty